Top Reasons to Buy an Integrated Wireless Charger for Your Business
GREAT CUSTOMER EXPERIENCE
Deploying Aircharge wireless charging provides a simple and elegant solution enabling your customers to top up their portable devices - smartphones, tablets, wireless headphones, etc - whilst relaxing or having a meal or drink without having to fiddle with cables or try to access power sockets. For cafes, restaurants and other venues, check out our wireless charging range and buy from the best in the business.
DRIVE FOOTFALL
Aircharge is proven to drive additional footfall from customers looking for the convenience of wireless charging. When combined with the power of the locator app customers can see all the charging locations nearest to them.
DWELL TIME & REVENUE
Adding Aircharge wireless charging to your venues not only increases customer satisfaction and footfall but can also boost dwell time, making it more likely for your customers to engage with your business and buy additional items from the menu while topping up.
CUSTOMER ANALYTICS
Utilising Bluetooth beacon technology integrated into the Aircharge surface chargers - a cloud-based IoT platform - you can monitor usage statistics of each individual charging location which helps monitor success, optimise layout for future installations and provides useful diagnostic information.
INTEGRATED SERVICES
Utilise the Aircharge surface charger's in-built long range wireless Bluetooth beacon technology to interact with customers at your charging points at a personal level via the app, enabling you to send marketing communications to them via push mobile notifications.
You can use the available APIs to deliver integrated services such as digital menus, table or room service, location information and personalised digital marketing programs.
SAFE & EASY TO INSTALL
Traditional wired charging relies on access to power and carrying around cables. Bringing power to a table-top or surface instead, the Aircharge Integrated wireless charger is an end-to-end solution that completely eliminates these issues and lets customers charge in a completely safe and convenient way.
Go cable-free with Qi Wireless
Wireless charging technology has been around for a little while now, but arguably the most popular system is Qi Wireless which is supported by all major brands, including Apple and Samsung. Qi Wireless gives users a charging experience that is both easy and intuitive. Simply place a device on a wireless pad, and it will begin to charge, completely eliminating the fuss of charging with cables.
Buy the integrated wireless charger used by leading brands around the world
If you are still not sure whether to buy an Aircharge wireless charger for your business, check out some of our global partners, including restaurants, airlines and car manufacturers who have successfully adopted our integrated wireless charging solutions. Aircharge offers simple installation and smart design for the office, hospitality and retail.
Contact the world's largest provider of wireless charging solutions today by calling +61 421 711 548 or fill in the form on our website to make an enquiry and find out how Aircharge can enhance your business.
Aircharge wireless charging SOLUTIONS
are perfect for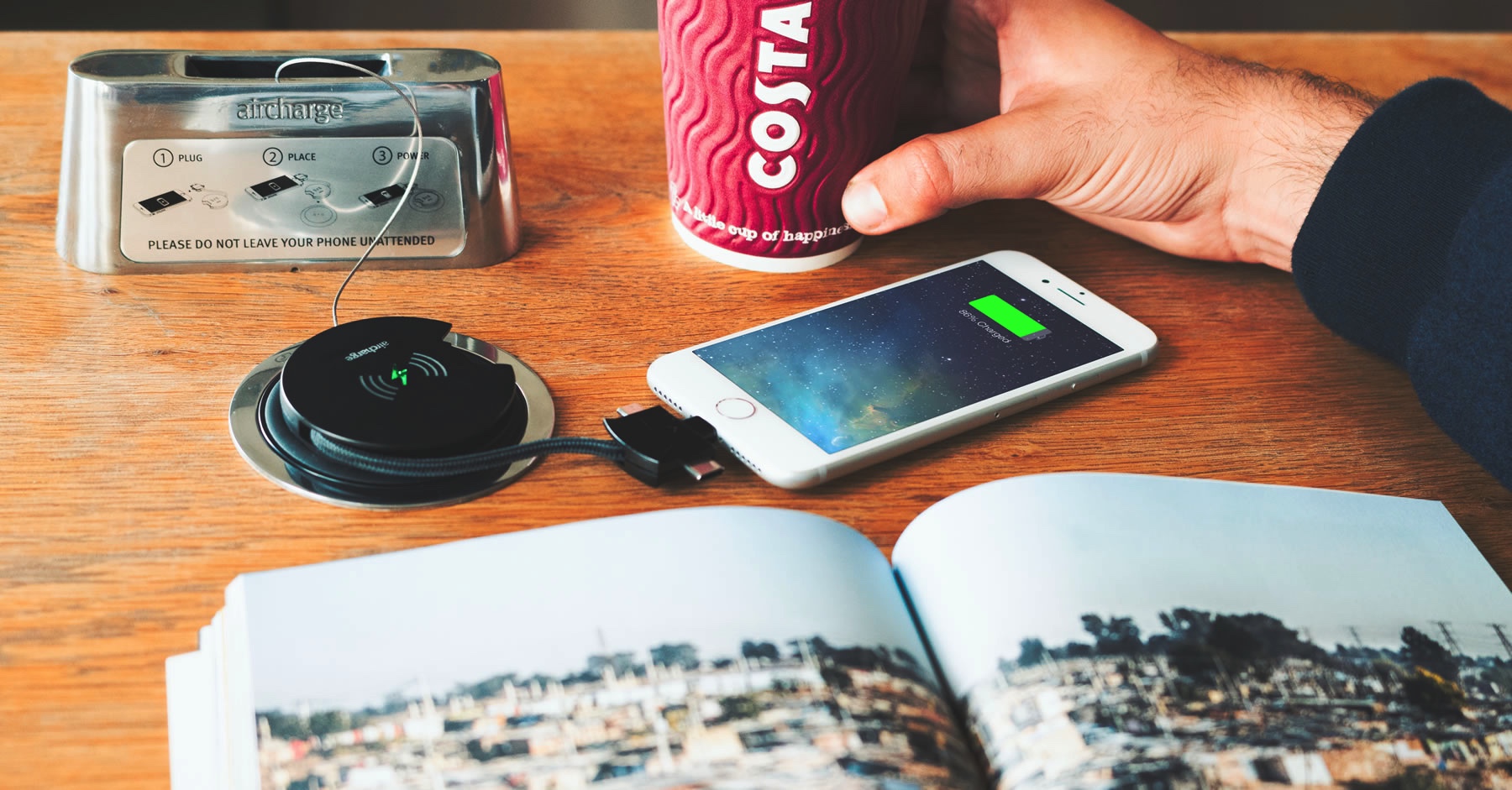 RETAIL & SHOPPING CENTRES